Start playing piano today
If you think about playing piano I have great news for you. No matter how old you are and no matter how advanced you are you can now do it from any place you are in thanks to app I'd like to share with you here.
Personally I use this app (Piano Marvel) for one and half year now and I must say that it changed my piano world since I started using it.
That is why I recommend to everybody this app – Piano Marvel.
Try it for free here:
(your discount code if you decide to use the app after free trial is: jw)
I don't want to waste your time so just quick few words why I think it is great tool for your daily practice.
Basically it is divided in three sections plus Sight Reading tests:
Technique section, which has six levels and in each level you have sub levels from A to E. Each letter level has 20 exercises that will improve your ability to play more and more difficult pieces and as well while you progress introduces new material which is well designed to stretch your skills while practising what you mastered already. If you want to repeat some exercises, they are right there for you.  Below picture from my dashboard so you can see how your dashboard will look like once you try it out.
Method section is filled with loads of music pieces and exercises that even further help use new skills you master in technique section. You will learn here a lot of pieces of music you can play for your enjoyment and to impress your family and friends. Once your skills progress on level 6 you will be able to play pieces that will amaze you for example: Mozart's "Rondo Alla turca", Beethoven's  "Fur Elise", Chopin's "Minute Waltz" and more. Great thing is that Piano Marvel actually leads you through loads of exercises to get there. Program is really well designed though practising those exercises is required. Below picture from my dashboard.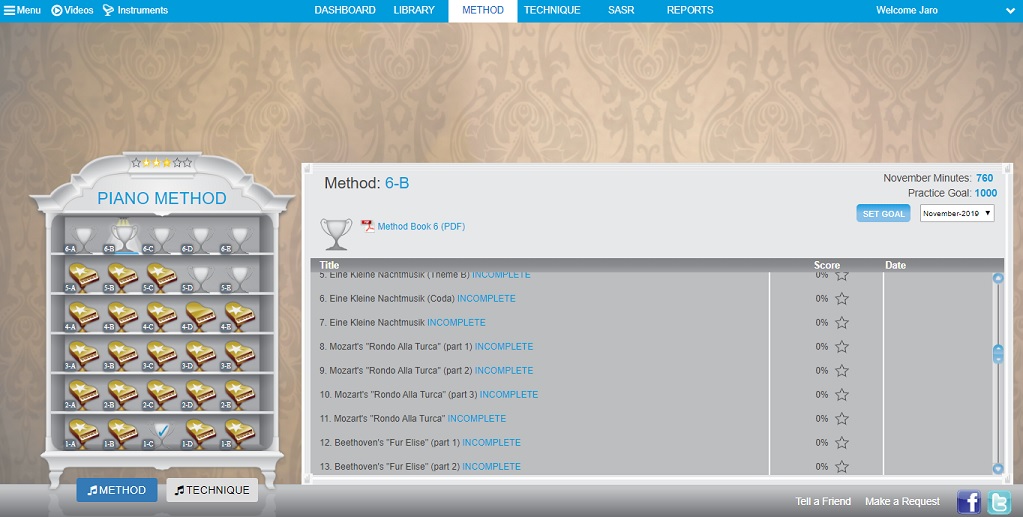 Library section is something you will like a lot. There are more then 3000 pieces of music prepared for you to learn. All of them are assigned to proper level so you can choose pieces from level you are in and learn them quite quickly of you can stretch yourself a bit and practice something more difficult, but based on my experience it is better to practice pieces from level you are in. Simply you learn them quicker and spend some time on your technique and method exercises to faster learn even more difficult pieces. In Library section you will find classical pieces of music, rock & country, holiday, gospel, more exercises if you like practice more, TV & film music… like I mentioned more then 3000 pieces to choose from. See how library basic dashboard look like.
Additionally Piano Marvel introduces more and more motivating features like rankings of how long you practice and where it puts you between all users of that app, rankings of how many days in row you practice, where you are based on your technique progress and method progress. It works fine for me to keep going, it may as well for you.
Based on my experience I can tell you that this app, on condition you will practice your piano skills will take you for a great journey through music. You will experience a lot of great moments while practising with it, and it will lead you to the place where you will actually play one day really well.
Try it and you will be amazed with your progress here:
(your discount code if you decide to use the app after free trial is: jw)
Additionally on this blog I record my progress with Piano Marvel. If you have any questions I am more then happy to share my experience with you. I know how it is to start learning, I was there, everybody was there actually, I record it here though because as we progress we forget things and sometimes it is hard to remember how it was when we started. Thanks to those posts I do and records I hope you will be encourage to practice and be much better than I am, though I am still chasing my dream level of playing piano.
Good luck with your piano practice 🙂