Missing you – learnt with Piano Marvel
Quick few facts:
I am right now on my 5th level with my app Piano Marvel. You can see that on picture below. Piece of music learnt is from that level.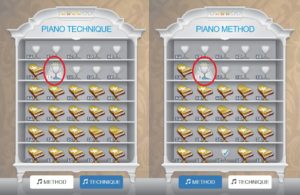 If you are willing to improve your piano skills with that app, use your discount code for PianoMarvel to have it cheaper:
PianoMarvel Discount Code: jw – feel free to try, you can do it for free for some time as well 🙂
I am a bit late with writing it down, but it was recorded at the end of the July 2019.
Back to the story of learning process of that piece of music which you can find below this short text or this link as well: Missing you.  As usually I spend between one and half hour to two hours daily with my piano. Most of the days. During a month it happened I miss one or two of those days, and immediately I miss my piano. So, I am at the stage of my piano journey when piano learning and piano practice became my habit. I can't wait next day to sit and play again moving forward my progress. And though, you might not see the progress in the difficulty of music there is progress. I can tell you that in this program they deliver so much new material that there is almost no room to play or learn new popular pieces. It is not that you can't. You simply don't want. You see how you improve. It makes you play more advanced pieces, but based on my goal, to reach end of level 6 as soon as I can, will lead me to play really great pieces from different kinds of music. Only my will to play them will stop me. I want those skills. I want to finally focus more on my repertoire then having part of success. So, that is why pieces I deliver you are mostly from the program designed by PianoMarvel. There is enough to enjoy the journey to promised land and having fun while going there. Occasionally I chose something from PianoMarvel library to start learning, and I am doing it for fun and exercise what I can and what is still missing.
This month was a bit of struggle for me, because I reached few exercises with completely new skill I had to posses. I am progressing obviously with them. But still a lot of to practice. I am happy though because that means that once I master them I will reach another level of proficiency. Great stuff. So, I was struggling but finally going a bit further and mastering this material. In between of that I had learnt that piece of music that you can watch on video below or this link: Missing you. We all know that to improve our skills we need to practice some of the exercises like skale, arpeggios, hanons etc. I use them and play them as warm up many times. They are quite boring to play but at the same time necessary. That is my opinion, based on fact, that since I am more proficient in them playing is much easier and gives more fun. That is why I stuck with them. There are plenty of them in my app. The only thing I need to do is to go back to them from time to time, which I do. Anyway, this month was again a hard work for me with my other project I am involved and finding those two hours a day to play is a struggle sometimes, but to actually find it is so rewarding, that there is no words to describe it actually. I really recommend you do it. Find this time, resign from everything you do that is not necessary and spend time with your piano. Rewards of doing that will come much quicker then you can imagine. What I've noticed as well, with this particular piece you can hear and watch below is that during my fun day which is Sunday I am more willing and able to a bit change it, improvise a bit. This is again something new to me. I wasn't able to do it even last month. So, that is something I can't show yet, but certainly is happening. Something is changing in me, I guess I am growing a bit at the time musically. You have to know, that I am considering myself not truly talented in music. I simply love it. But what is waking up brings so much joy and better understanding of music and appreciation for those who gave us so much already by creating pieces we now can learn to play, better or worse.
So, there is progress in my playing, I assure you. Consistency in doing it is very important. I am doing it. I will do it. I hope, if you are still sceptical how much you can achieve with your piano, that I will surprise you soon with what can be accomplished when you are committed to the task and how enjoyable it can be. But for now, we need to be satisfied with the process… and video below is part of this process, journey what I like to call it. So, be inspired, and have fun with your piano. Certainly, no matter what, DO NOT STOP!
If you like to use the same app I use to learn piano use this discount code for Piano Marvel to have it cheaper:
PianoMarvel Discount Code: jw – feel free to try, you can do it for free for some time as well 🙂
And now only one thing left, to watch the progress… enjoy 🙂 Piece is called: Missing you.
Have a great day and incoming days of practice with your skills.
Take care.