And another month past with Piano Marvel practice sessions. I feel a bit that I am a bit further and gained some skills that needs to be polished now. Piece I have learnt is Canon in C, but to be honest must be improved a lot yet. You can see that on the video below. Reason is that in this piece there are so many new hands activity introduced for first time. I feel already that there is progress though it might not be seen or heard while you listen to the video I recorded just to journal progress. But you can believe me that there is improvement. Of course like I mentioned there is still a lot of work to do.
This month was quite busy with work and my piano practice was not exactly smooth like I planned it but still I did everything possible to take as much as possible from time I had to practice my piano. I am now at level 5D out of 6E of the program (see picture below) I follow and looking forward to reach in next 9 months end of it where are pieces to play that really will bring a lot of joy to play. So, equipped with patience (not always easy to be patient) I will continue my journey so, you can see that time and daily practice will bring us, me and you to the place where we want to be.
My status on the program I follow in Piano Marvel :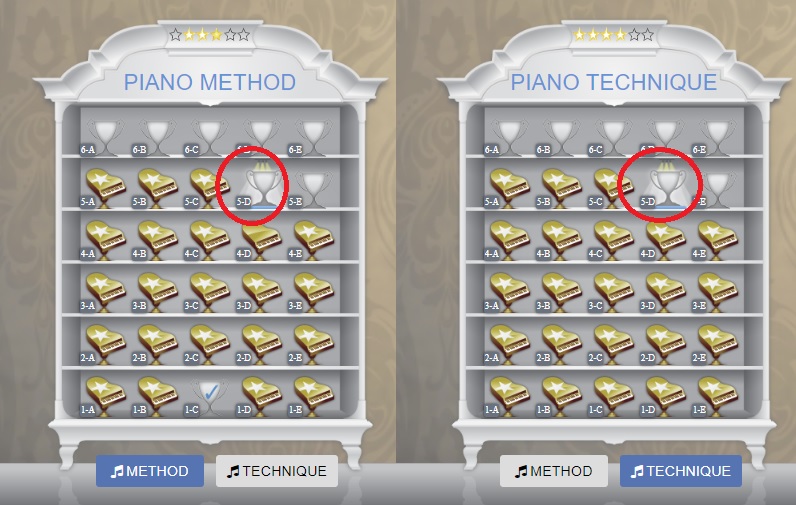 As you can see on picture above I am now on 5D level of my program and I have checked already there are some amazing great pieces to play on level 6C. It is time to practice hard and get there as soon as possible to. Anyway, below you can see on the video where I am right now and piece there I am practising was on level 5C. Enjoy watching.
To assume experience gained from this month of practice is: DAILY PRACTICE IT IS WHAT YOU WANT TO DO TO GET THERE WHERE YOU WANT AS SOON AS POSSIBLE.